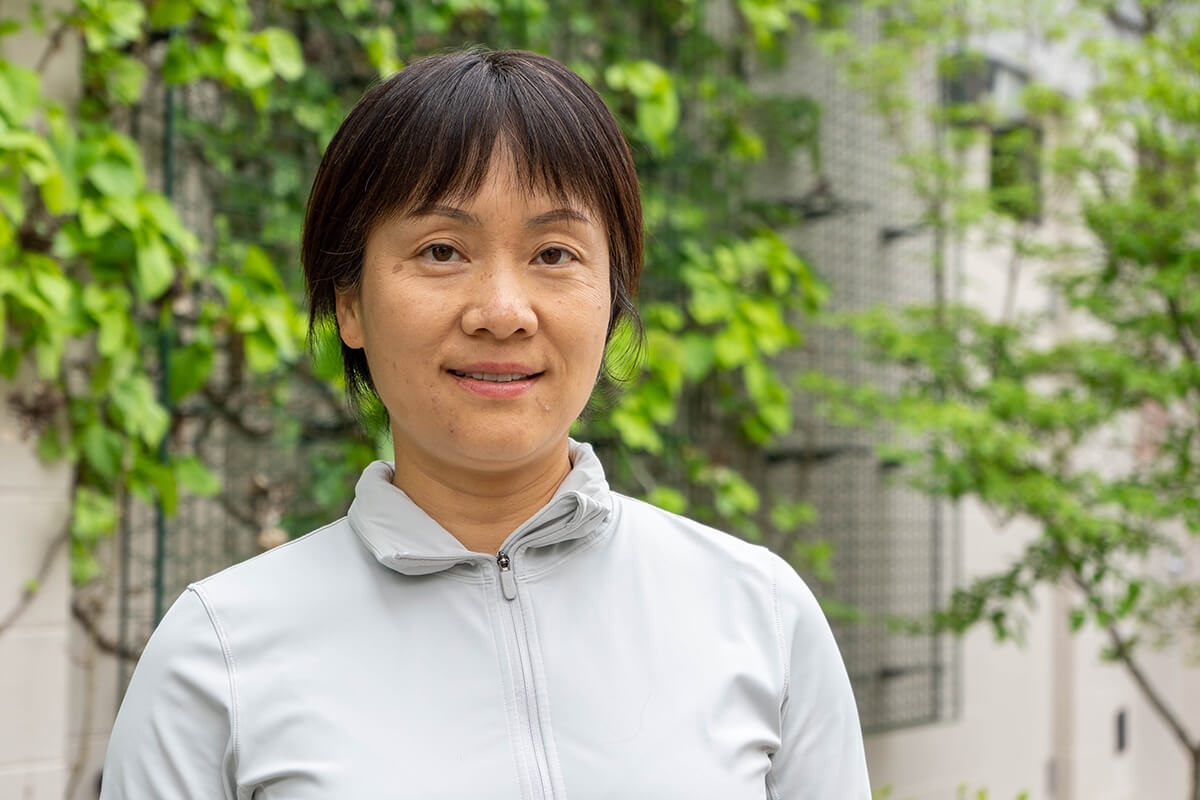 May 17, 2023
With 16 years as a senior research associate at VTTI, Jianhe Du is a driving force in the Center for Sustainable Mobility (CSM), researching traffic efficiency and how to reduce the environmental impact of transportation while also focusing on (transportation) safety.
Jianhe earned a B.S. in railway transportation and an M.S. in engineering economics at Southwest Jiaotong University in China, as well as a doctorate in transportation systems and engineering at the University of Connecticut. Prior to joining VTTI, she worked as a consultant with expertise in revenue analysis for High Occupancy Toll lane roadways, traffic assignments, and simulation.
Currently, Jianhe is involved in research funded by federal agencies such as the Department of Energy, the Federal Highway Administration, and the Department of Transportation as well as the University Mobility and Equity Center (in conjunction with Morgan State University in Maryland). Her work includes large-scale simulations and multi-modal optimization studies, such as the one focused on analyzing City of Los Angeles traffic in order to recommend the best modes of transportation. Jianhe and her colleagues utilized CSM's INTEGRATION software to develop and test the Eco-Cooperative Automated Control (Eco-CAC) system, which focuses on substantially reducing vehicle fuel and energy consumption by integrating vehicle control strategies with connected vehicle applications. A current study is focused on minimizing fuel consumption for transport of railroad freight.
Her work will also help people to drive more efficiently in the future. She says, "Your phone can receive traffic info, everything is connected. We are laying the groundwork for making use of this connectedness to improve mobility and safety."
Jianhe and her husband, Feng Guo, moved to Blacksburg in 2007 with their two daughters. (Feng is a professor of statistics at Virginia Tech as well as the lead data scientist at VTTI.) Jianhe says: "Blacksburg is a great town, a wonderful place to raise children!"
She expresses appreciation for southwest Virginia's beautiful four seasons and the availability of outdoor activities. Jianhe happily notes that the mountain biking trails around Blacksburg are challenging and that some of what are classified as "easy" trails in the area would be called "difficult" elsewhere. The whole family also enjoys playing tennis and skiing.
Jianhe says that the work being conducted by VTTI is building the foundation for a more efficient transportation system: "I am proud that we are developing cutting-edge technologies that are changing the whole transportation system for the better, to be safer and more efficient and have less of an impact on the environment."