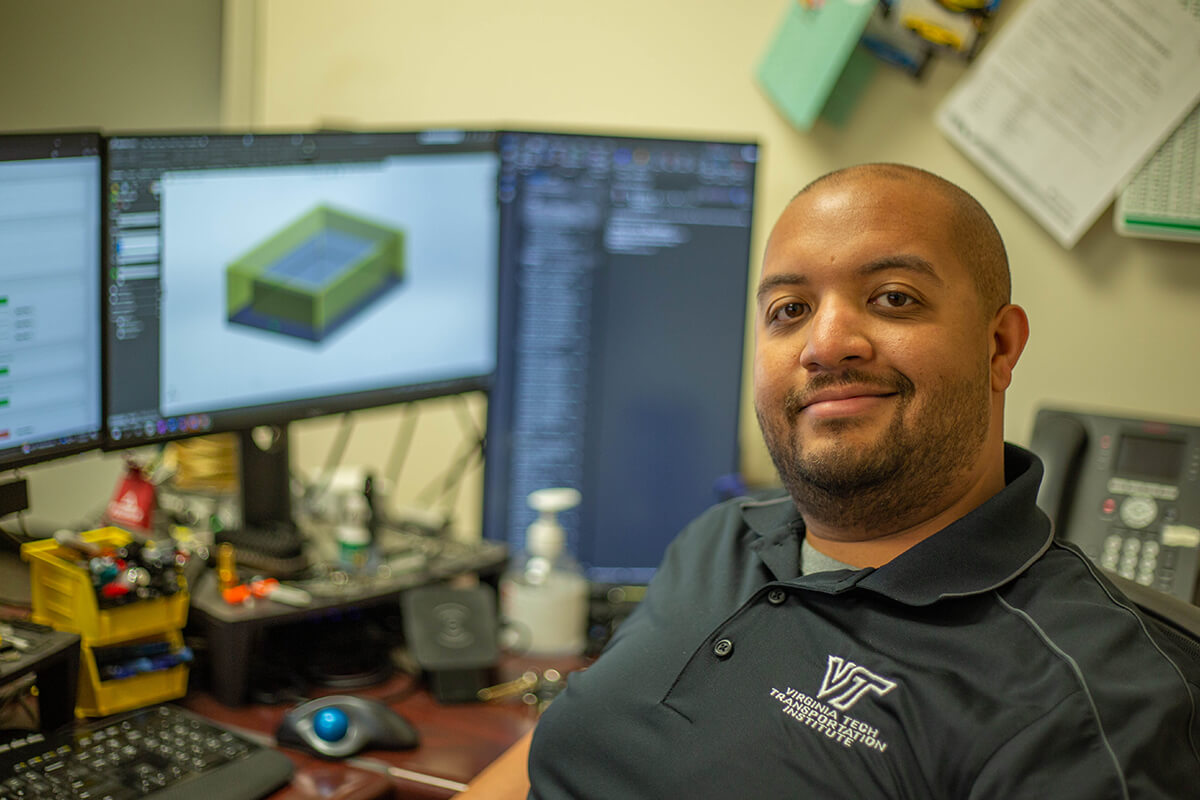 January 23, 2023
Meet Mario Jones, VTTI's latest Driving Force! Mario has been with VTTI since 2013. In his first role as a mechanical design engineer, he worked on the design of data acquisition systems such as MicroDAS and FlexDAS. These systems allow for the capture, recording, and storage of data obtained from onboard cameras and sensors for research analysis across our various naturalistic driving studies.
In early 2020, Mario became the lead of the Mechanical Design program within the Division of Technology Development and Deployment where he is responsible for coordinating the program's efforts to facilitate activities that advance VTTI's various research needs. In this role, he provides guidance on the development of mechanical designs to program researchers, mentors other mechanical design engineers and technicians, and serves as an interface between the Mechanical Design program and the various research groups throughout VTTI.
While many employees at VTTI ─ and throughout the world ─ were able to work from home during 2020 and 2021 because of the pandemic, Mario and his colleagues continued to work onsite due to the nature of their jobs, implementing the protocols needed to stay safe while getting the job done.
After earning a Bachelor of Science in physics from Longwood University, Mario first worked as a fiber optic research technician at Luna Innovations. He summarizes that experience: "We got to build and test very delicate systems in unique environments… such as within a live nuclear reactor!" Transitioning from that job into transportation research has a personal significance for Mario. In July 2011, his father was involved in a car crash and, tragically, did not survive. For that reason, his current role in making transportation safer is especially gratifying.
With regard to working at VTTI, what is Mario most proud of? He states: "VTTI has executed projects and vehicle modifications that have never been done successfully before. The vehicle that we modified to be driven mainly from the rear passenger seat gets the most reaction from pedestrians and other drivers on the road." Fittingly, his hobbies don't veer too far from his professional responsibilities. In his spare time, he likes to restore, modify, and race cars and motorcycles. Originally from the Richmond area, Mario and his wife, Sascha, make their home in Christiansburg.
When asked what he likes best about working at VTTI, Mario responds: "I love the variety of projects at VTTI, how creative we must be in the mechanical group to answer different research questions, and the interactions that I have with my fellow employees. I also love being a part of a group where we will all jump in to volunteer to help whenever and wherever we can. I want to acknowledge my colleagues in the Smart Roads and Mechanical Systems groups. I could not do what I do without them!"