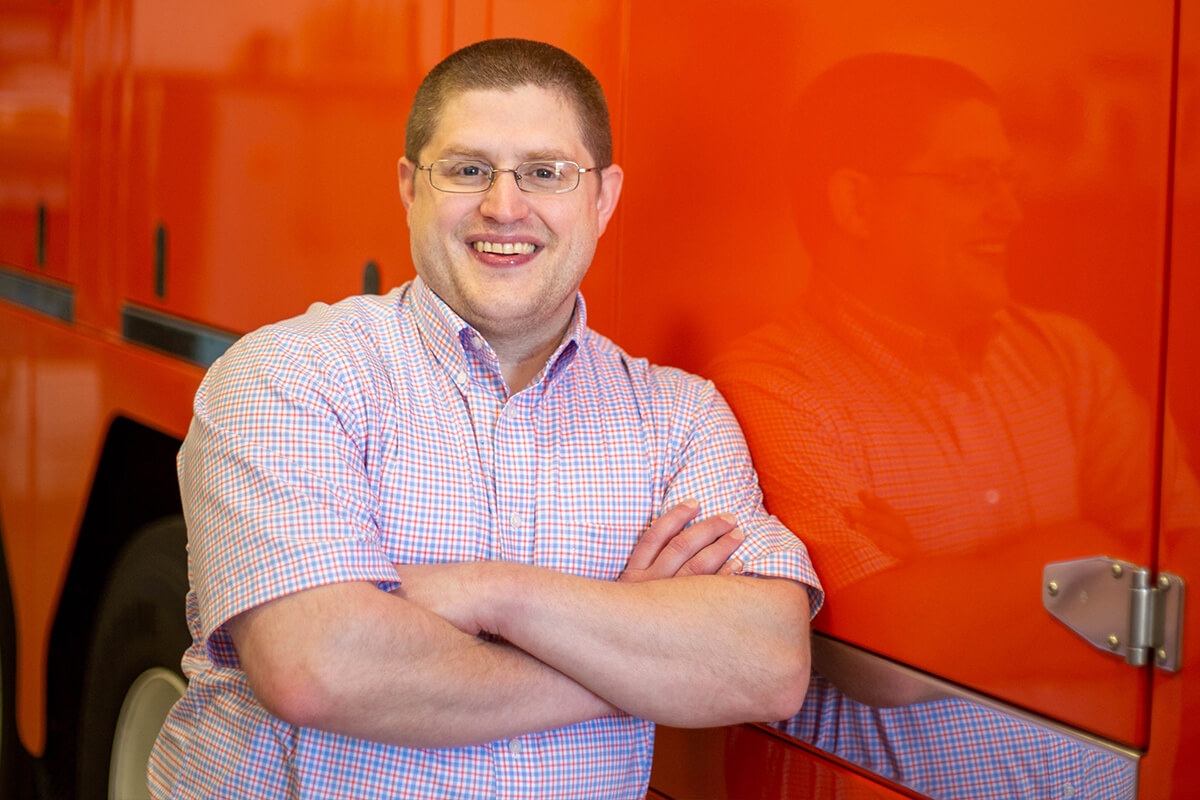 September 6, 2022
Going to the gym is known to be good for the body and the mind. For Ross McCarthy, it has paid off career-wise!
In 2013, Ross had just completed his B.S. in Civil Engineering at Virginia Tech and was interested in pursuing a master's degree in structures. Though he was accepted into VT's Structural Engineering and Materials Program, the lack of available financial assistance impeded him. Coming from a family that greatly values education, turning down this invitation into the structural engineering graduate program was a letdown for Ross. Following his rejection of the program, he reluctantly prepared to leave Blacksburg. Then he got on a cycle machine at a local gym.
When someone got on the cycle next to Ross, they started up a conversation. That was Gerardo Flintsch, then—as now—a professor in Virginia Tech's Department of Civil and Environmental Engineering as well as the director of VTTI's Center for Sustainable and Resilient Infrastructure (CSRI). When the conversation got around to the postponed plans for graduate studies, Gerardo mentioned some testing that was taking place on the Virginia Smart Roads at VTTI, and he invited Ross to visit and see it firsthand.
That chance encounter led to an education and career path in transportation safety for Ross. He initially joined the CSRI team in a part-time position, and subsequently received a graduate assistantship for the master's program in civil engineering at VT. While a graduate student, Ross spent a semester at the University of Nottingham in England, which he described as "an amazing experience." He studied under Professor Tony Parry, where he focused on tire-pavement friction and analytical tools to improve safety.
While riding a train during his time in Nottingham, Ross witnessed an aggression directed toward a man and his son. Afterward, Ross approached the man to offer support. The individual turned out to be Glenn McDowell, the head of the Department of Civil Engineering at the University of Nottingham (a position he still holds in 2022). He reciprocated Ross' kindness and concern with introductions to prominent individuals in the engineering field, which greatly added to his U.K. experience.
Ross completed his master's program in 2014, a semester after returning from England, and was subsequently awarded a graduate fellowship along with a graduate assistantship to pursue his Ph.D. in civil engineering. After completing his doctorate in 2019, Ross was initially hired as a postdoctoral associate in CSRI. He now serves as a research associate in that Center. In this role, his responsibilities include processing and analyzing measured pavement characteristics related to tire-pavement interactions and highway safety. Using this data, he co-authors scholarly articles and assists with writing and compiling government reports. His work also involves traveling to meetings and conferences where he interacts with professionals who work in transportation, safety, materials, and other fields, exposing them to the newest tools. The goal is always to improve transportation safety.
When asked what his hobbies are, he laughs. "I'm getting married soon, so planning the wedding is my hobby right now!" Ross and fiancée Whitney Deal will tie the knot in October.
Ross is quick to express appreciation for his good fortune and he is effusive in his praise for everyone in CSRI, especially Gerardo Flintsch, Edgar de Leόn Izeppi, and Samer Katicha, noting that: "They are more than mentors. I trust these people, they're patient and have allowed me to grow and become more confident in professional research. Every day I am learning something new!"
Whether he is establishing connections abroad or conducting research that contributes to safer roadways, Ross is truly a driving force at VTTI!