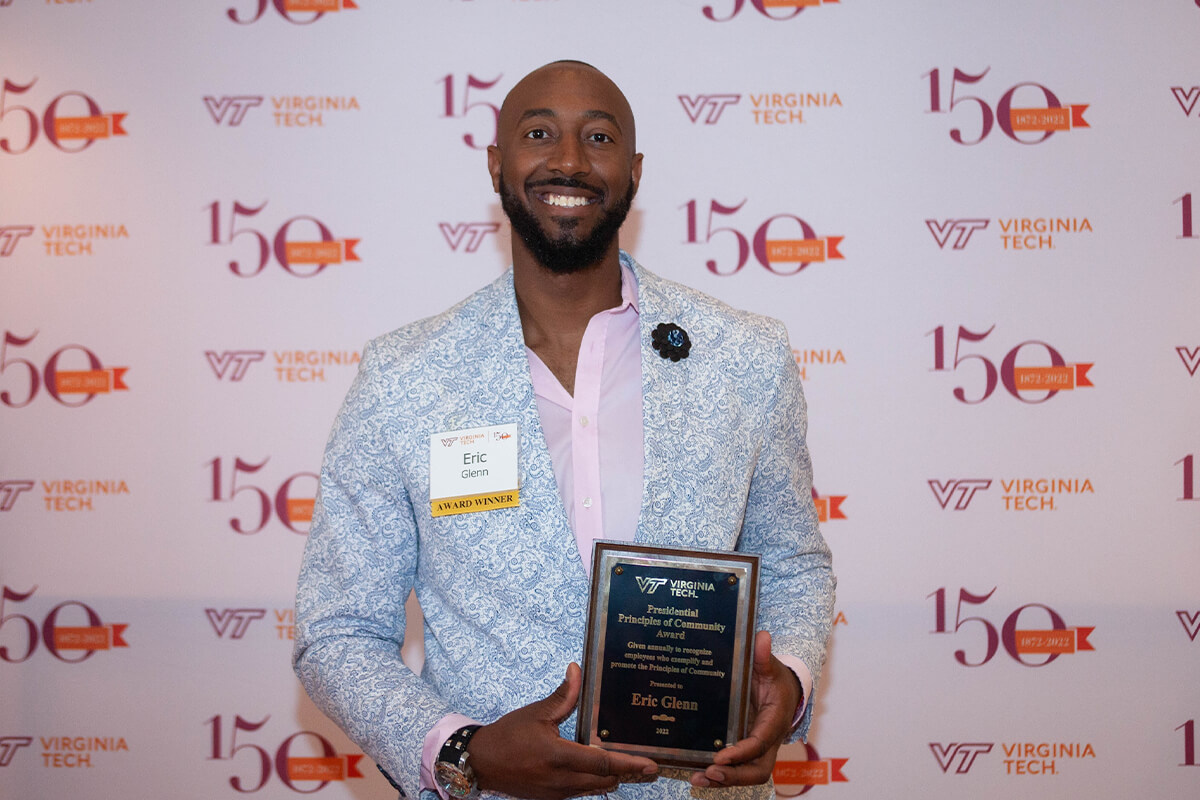 May 12, 2022
"It is surreal to be recognized for work that is so important to me and the future."
Eric Glenn, Research Program Specialist and Diversity, Equity, and Inclusion Subject Matter Expert at the Virginia Tech
After completing a course on Counseling Diverse Populations, Eric Glenn knew that he could take what he learned and help to create a safe and comfortable environment for everyone, including at the Virginia Tech Transportation Institute (VTTI). 
His dedication, past experiences, and education led Glenn to be entrusted to establish the VTTI Road to Inclusion, Diversity, and Equity (RIDE) Committee, and his work is being honored with the Presidential Principles of Community Award.
The Presidential Principles of Community Awards were established in 2014 and recognize members of the Virginia Tech community who exemplify the Principles of Community and have demonstrated an active commitment to inclusion and diversity at Virginia Tech.
"It is surreal to be recognized for work that is so important to me and the future," said Glenn. "The work being completed by the RIDE Committee is crucial to creating an inclusive environment both at VTTI and in our research."
Glenn began working at the institute in 2013 as a data reductionist and has since been elevated into multiple positions including research assistant, senior research specialist, program manager, and diversity, equity, and inclusion chair/subject matter expert.
Since starting at VTTI, he has been credited with creating the institute's first inclusion, diversity, and equity committee that is intended to create and foster a safe, equitable, and inclusive work environment for all personnel at the institute.
The RIDE Committee's goals are to open channels of communication with senior leadership, educate VTTI employees on the importance and means of achieving diversity, equity, and inclusion; and strategically execute realistic goals developed based on the needs of students, staff, and faculty.
Glenn serves as the committee's inaugural Chair and oversees a collective group of students, staff, and faculty dedicated to making VTTI as inclusive as possible.
"Eric is an extremely driven individual and the perfect example of how the Virginia Tech Principles of Community are being enacted at VTTI," said Myra Blanco, director of advancement, partnerships, and outreach at VTTI. "I am honored to work with Eric every day. I personally have seen multiple benefits of the work he is doing with the RIDE Committee, and I have heard from many others that they have felt more comfortable at VTTI knowing that there is a group of individuals making the institute more inclusive."
In addition, Glenn is striving to ensure that diversity, equity, and inclusion are also a key component of the research being conducted at VTTI as it enables researchers to conduct equitable transportation-related research.
Lastly, Glenn is extremely grateful for the support from his wife, Laurel Glenn, colleagues Luke Neurauter, Zac Doerzaph, and Susan Soccolich, the mentorship from Eric Cooper, educational confidence in this field from Shernita Lee and the EDCO program, and finally a huge thank you to Myra Blanco for seeing and activating the potential in himself to make a difference in so many colleagues.
Glenn studies in pursuit of a master's degree in Counselor Education, and two inclusion and diversity certificates from Cornell University (received) and Virginia Tech.