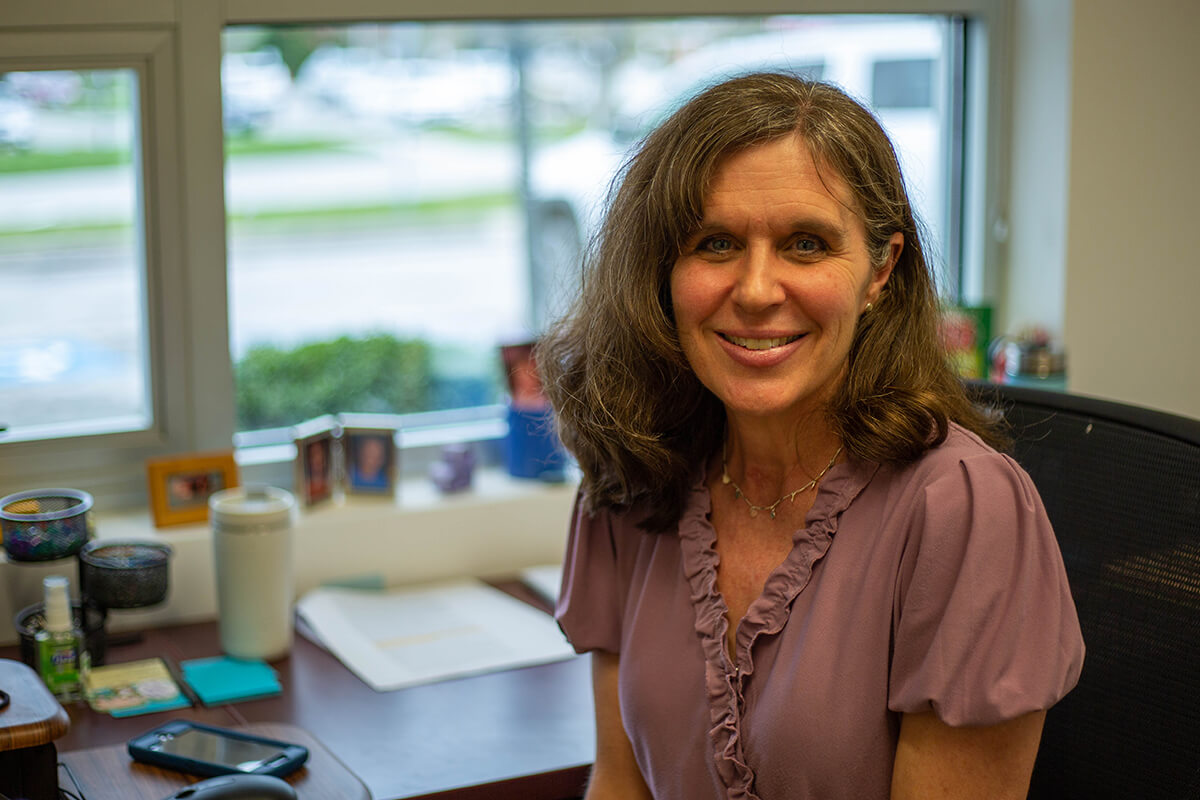 April 12, 2022
Stephanie Baker came to VTTI 24 years ago when it was still called the Center for Transportation Research. Having a background in transportation and community development, she was a natural fit for the Travel Shenandoah project, a pilot study for what would later become 511 Virginia. The project, which utilized focus groups and interviews to assess traveler information needs, was in keeping with Stephanie's focus on the importance of stakeholder input and qualitative research.
A native of the New River Valley, Stephanie received a B.S. in political science at James Madison University, and a Master of Public Administration with a Certificate in Environmental Ethics from the University of Georgia. As a graduate student, Stephanie was trained in community development facilitation and put that training to use after graduate school in Scotland and later in Romania conducting interviews and strategic planning as part of community and non-profit development work.
Stephanie's skills have been utilized in a variety of projects during her time with VTTI. In what is now the Division of Freight, Transit, and Heavy Vehicle Safety, she worked with Andy Schaudt on a project that focused on educating teen drivers on how to safely share the road with trucks. The study, which began in 2011, used surveys, interviews, and focus groups to gather input from driver's education teachers and students. The study developed into a program that continues today via onsite and virtual experiences for driver's education students. A team of VTTI researchers travels to high schools around the country to provide a hands-on experience for new drivers to help them better understand how to safely share the road with trucks.
This experience led Stephanie to more teen driving work with Dr. Charlie Klauer, including conducting outreach at parent-teen nights at area high schools to promote the benefits of parent-teen driving agreements and using interviews with teens and parents to learn more about how technologies such as driver monitoring systems can support parental involvement and improve teen driving safety.
Stephanie currently serves as a senior research associate with the Division of Data & Analytics' Policy and Qualitative Data Analysis group. She enjoys working with Dr. Tammy Trimble to serve groups across VTTI with projects that require interviews, focus groups, or meeting facilitation.
When asked what she likes best about working at VTTI, she says: "It is hard to pick one thing – the people, the participants, and the sense of purpose. I've been blessed to work with amazing people at VTTI who care about their work and have given me great opportunities to learn and grow in my career."
She elaborates further on the value of the volunteers who dedicate their time to VTTI studies. "It is such a privilege to have people spend time sharing their thoughts and opinions with me. So much of what VTTI does depends on people taking the time to tell us what they think about a new program or technology. Our participants provide invaluable input to our studies and I'm so thankful for them."
In her free time, Stephanie said what she enjoys most is spending time with her husband, two teenagers, and their dog. She loves being outdoors – running, hiking, and traveling. Involvement in her local church community and visiting with family are also very important to her.
Reflecting on the past 24 years, Stephanie says a sense of purpose has kept her at VTTI for so many years. "VTTI aims to save lives and protect the environment. It's been rewarding to be a part of research and outreach designed to help people stay safe on the road and I'm learning more about climate change and sustainable transportation so I can support VTTI's efforts to help address this critical issue. So, while it's hard to believe it's been 24 years, I'm excited to be a part of what VTTI is doing now and in the future!"