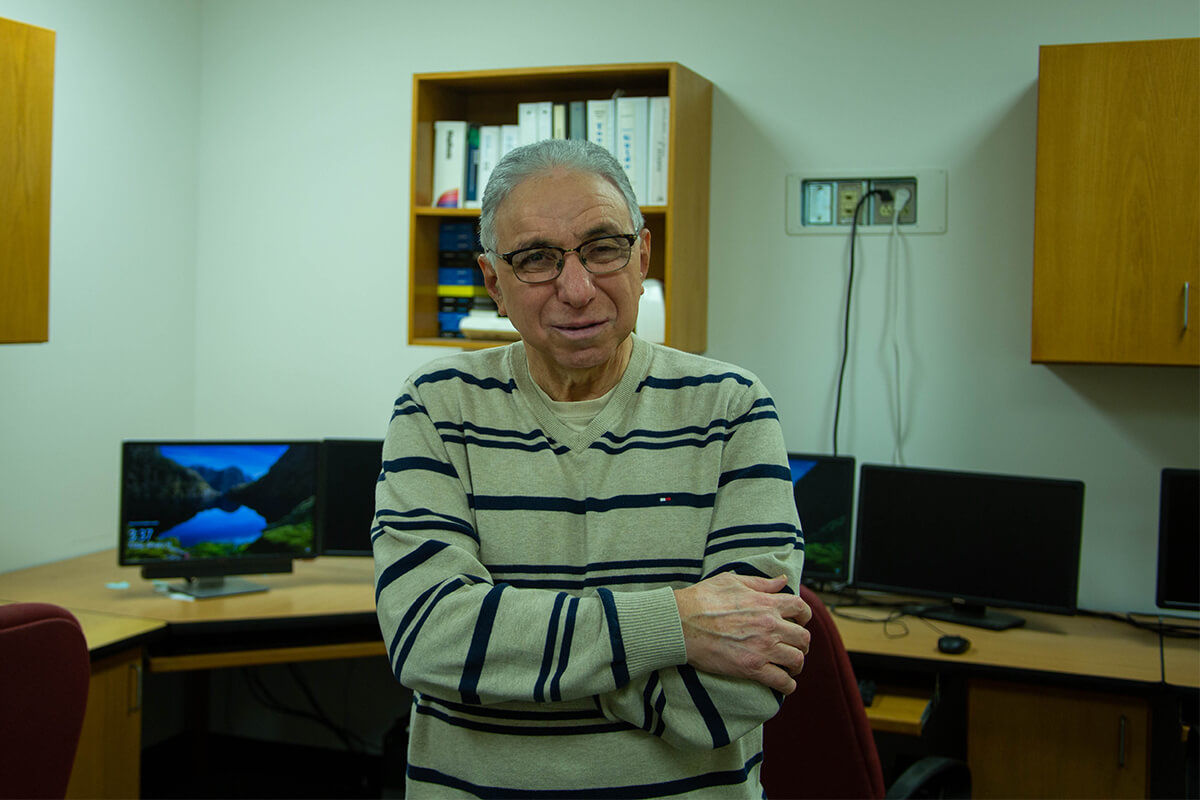 January 20, 2022
Ihab El-Shawarby has had many roles at VTTI, reaching back almost 25 years. His first job as a data reductionist was taken while he worked on his doctorate in industrial engineering in the late 1990s. After receiving his PhD through a joint program between Virginia Tech and Ain-Shams University in Cairo, Egypt, Ihab headed back to Cairo and served as an assistant professor at Ain-Shams University, completing a requirement of the scholarship program.
Ihab returned to Blacksburg in 2002 as a research scholar when a project in VTTI's Transportation Systems and Operations group required his skills and experience. He advanced to the role of senior research associate in 2003 and he now holds the title of research scientist.
(Prior to earning his Master's degree in biomechanics from Ain-Shams University, Ihab worked as a Cairo branch manager for Coca Cola, and he remembers that employees were expressly forbidden from drinking competitors' products when out in public, even if those were the only offerings available!)
Ihab's work in the Center for Sustainable Mobility (CSM) is focused on operations research, modeling, simulation, driver behavior, and field data collection and analysis. He serves as the Virginia Tech program coordinator for the Urban Mobility & Equity Center (UMEC) University Transportation Center, a collaboration with Baltimore's Morgan State University and the University of Maryland that strives to improve the mobility of people and goods in an environmentally sustainable manner. During his 20 years as a VTTI faculty member, Ihab has worked on more than 100 projects—acting as the co-principal investigator on many of them—and he has co-authored in excess of 50 publications. He currently serves as the project manager for all CSM projects and is involved at some level on every project in the Center.
Ihab and his wife, Niveen Tayel, have a daughter, Sarah, who earned Bachelor's and Master's degrees in Accounting and Information Systems from Virginia Tech, and a son, Mohammad, who graduated from Radford University with a degree in graphic design. Sarah and her husband, Hisham Elsisi, have two sons, 10-yr old Adam and 4-yr old Zain.
Ihab and Niveen love to travel, and they have visited 15+ states and more than 40 countries in Europe, Africa, Asia, and North America. Their plans to visit Brazil and Uruguay have had to be put on hold until the pandemic is behind us. They also enjoy doing their own home maintenance and remodeling, tackling jobs such as painting, replacing carpets with hardwood flooring, and sealing the driveway themselves! A big soccer fan, Ihab makes a point of following the Real Madrid, Chelsea, and Zamalek teams.
Ihab didn't hesitate when asked what he likes best about working at VTTI, noting his appreciation for "Center director, Hesham Rakha, and my colleagues in CSM, and the other groups at VTTI that I have worked with through the years." He specifically acknowledged the support received from personnel on VTTI's Finance, IT, HR, and Editing teams—past and present.
What is he most proud of that VTTI does?  "Our work on increasing safety on roadways and reducing pollution." Ihab El-Shawarby has certainly been a driving force in those accomplishments!