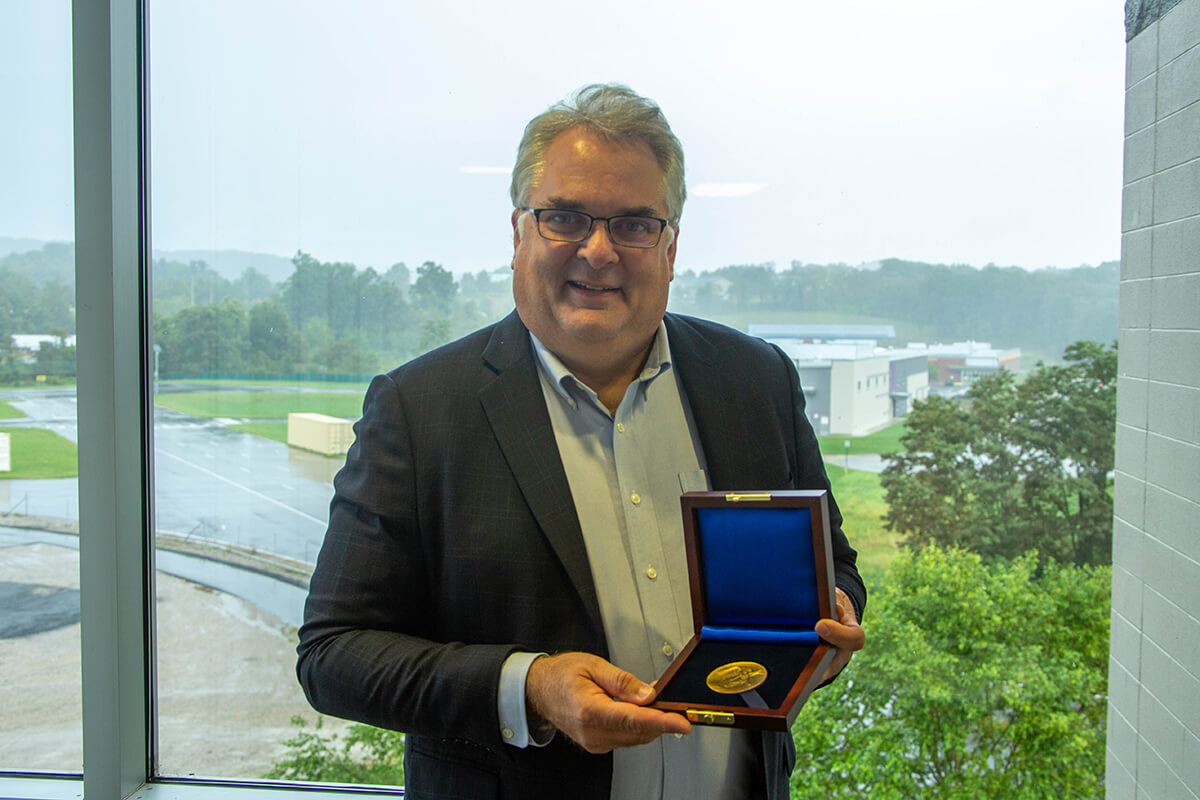 October 7, 2021
Dr. Ron Gibbons, group leader of the Infrastructure-based Safety Systems Laboratory (IBSSL) within VTTI's Division for Vehicle, Driver, & System Safety and an associate professor at Virginia Tech in the School of Architecture and Design, has been awarded the 2020 Illuminating Engineering Society (IES) Medal Award.
The IES Medal Award is the highest technical achievement conferred by the IES and is "awarded for the purpose of giving recognition to meritorious technical achievement that has conspicuously furthered the profession, art or knowledge of illuminating engineering."
"The research that Ron does has practical applications that benefit millions of people," said Rajaram Bhagavathula, a senior research associate at VTTI. "From lighting research that protects the environment to lighting research that allows for safer travel, Ron has proven to be a leading researcher in the illuminating field and is truly deserving of this honor."
Dr. Gibbons' contributions to the illumination industry have placed him as one of the top researchers in the field. He joined VTTI in 2001 and has brought in over $24 million in research funding in the ensuing 20 years and has published over 80 research papers. Throughout his time at VTTI, he has conducted research on various topics, including lighting, pavement markings, signage, and roadway design. He has also studied the environmental impacts of lighting to help find the perfect balance between optimal visibility on the roadways and limiting its impact on the natural surroundings.
"It is surreal to be recognized for a lifetime of efforts dedicated to the illumination industry, and it is a great honor to receive this award," said Dr. Gibbons. "The vast amount of people and projects that I have had the opportunity to work with have been a driving force for my career, and I am proud to have made an impact on the lighting industry with so many deserving researchers."
In addition to his VTTI research, Dr. Gibbons also teaches undergraduate- and graduate-level courses on Architectural Lighting Design in his role as associate professor in the School of Architecture and Design at Virginia Tech. These courses are structured to study and evaluate the current and historical issues in architecture and environmental design.
As the 2020 Annual IES Conference was rescheduled due to COVID-19 safety regulations, Dr. Gibbons was recognized as the 2020 IES Medal Award recipient at the 2021 Annual IES Conference.
Gibbons earned his bachelor's, master's, and Ph.D. in Systems Design Engineering from the University of Waterloo.