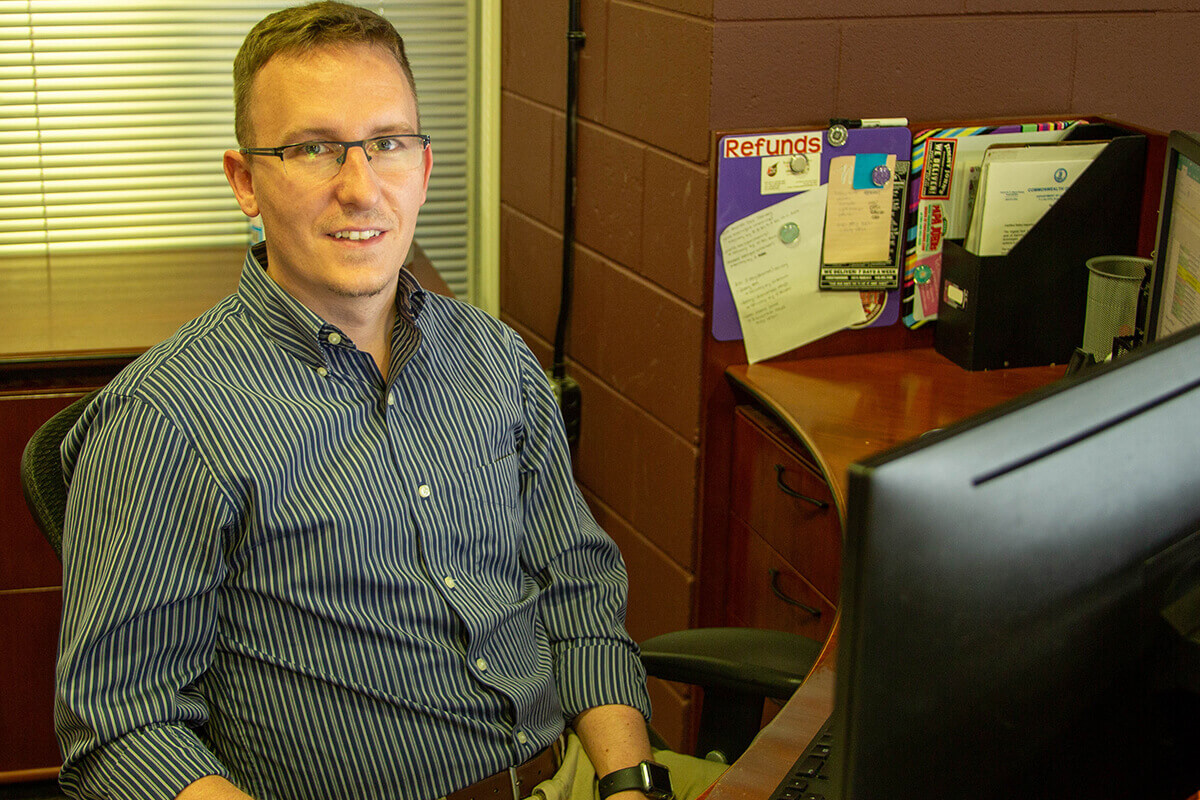 October 11, 2021
Upon arriving at VTTI's Blacksburg location, Alex Moore is likely to be the first person you will meet. In his primary role of staffing the front desk, he provides a consistent presence to assist and direct visitors and research study participants. In addition, he takes on various tasks to support VTTI's faculty and staff. If something is needed, and you don't have time to tackle it, go ask Alex!
Joining VTTI in 2010, Alex first worked as a Smart Road dispatcher and then as a Human Resources (HR) assistant before moving into his current position in 2018. Helping out wherever he can, he is responsible for or contributes to: planning annual VTTI events, managing delivery/shipping needs, conference room readiness and catering for meetings, financial reports for sponsored projects, vehicle billing, wage payroll reconciliation, and various HR tasks. In addition, he is involved with research participants for select studies and is responsible for managing their Clincards (the system used by VTTI to compensate study participants).
Some of these additional duties date back to the beginning of the pandemic. While visitors to VTTI decreased considerably and some personnel opted to work from home, Alex continued to staff the front desk area and took on work as needed, when needed!
As for hobbies and interests, Alex quickly responded: "Family time is the #1 priority for me." Alex and his wife, a nurse, have two sons, ages 7 and 13. And any time he can, he spends on his drum set: "It's an activity that doesn't allow your mind to wander." He also plays the saxophone and bass guitar and is learning piano through structured online lessons. Running is another favorite activity that he fits in whenever he can.
When asked what he likes best about working at VTTI, Alex had this to say: "What I like most about VTTI is the people. We have a group of very talented, hardworking people here and it's a pleasure to work with them."
HR coordinator, Lisa Eichelberger, offered her opinion: "In addition to being the face of VTTI and the first encounter with all of our visitors, Alex brings a 'can do' attitude and a spirit of helpfulness in every way. His willingness to support the entire VTTI team is so appreciated by all of us."
In other words, Alex Moore is a driving force here at VTTI!