November 19, 2020
As VTTI looks to the future, it recognizes that modern transportation challenges need modern solutions. A new leadership team has been tasked with overseeing an updated research and administrative program that will increase the institute's agility in addressing current and future transportation needs for its partners.

"Our new directors bring with them an impressive depth of research expertise, award funding, and vision for the continued growth and success of VTTI. Under the guidance of our leadership team, we will be well positioned to exceed our research and funding goals, explore new opportunities, address future challenges, and continue to adapt and advance as a leader in transportation research and innovation," said Dr. Tom Dingus, director of VTTI.
The team of directors will serve the VTTI administration and will oversee five research divisions for the institute, spanning vehicle and driver systems safety, technology development and deployment, infrastructure, freight and heavy-vehicle safety, and data analytics.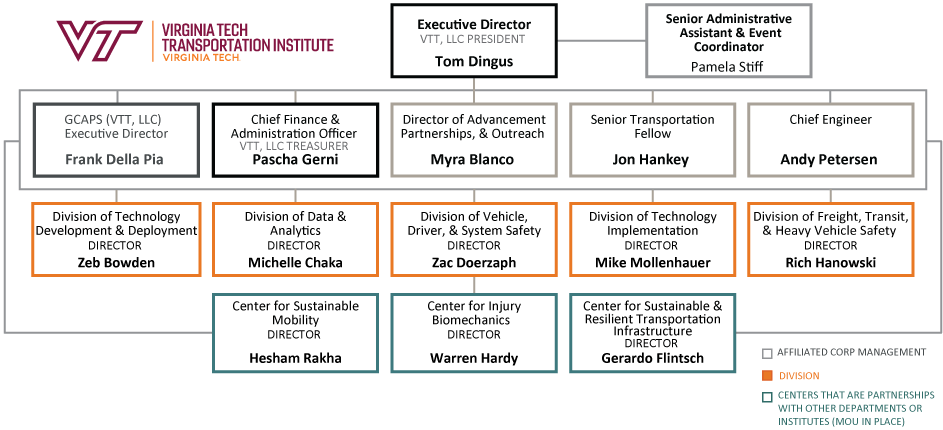 ---
The new directors are:-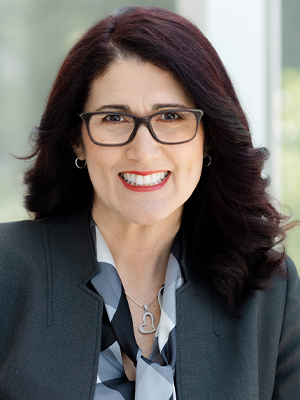 Myra Blanco, Director of Advancement, Partnerships, and Outreach
Dr. Myra Blanco is expanding opportunities and partnerships internal to Virginia Tech, as well as externally through Corporate and Individual Advancement and Government Relations. Formally trained in human factors engineering, Dr. Blanco's areas of research expertise include automated driving systems, distraction, driver behavior, training, work/rest cycles, fatigue, and active safety systems for light and heavy vehicles. She has directed research efforts in naturalistic, on-road, test track, and simulator test environments and has authored numerous publications. She has recently returned from a one-year sabbatical at Daimler Trucks North America and Torc Robotics, where she served as a Senior Technical Fellow. Previously, she was the founding Director of VTTI's Center for Public Policy, Partnerships, and Outreach, as well as the Center for Automated Vehicle Systems. Dr. Blanco was the 2013 recipient of the SAE International J. Cordell Breed Award for Women Leaders and the 2017 NHTSA Award for Safety Engineering Excellence.
"I look forward to assisting VTTI and the new division directors in my new position. In the last 22 years at VTTI (Center for Transportation Research when I started), I have seen what it can offer from the lens of a student and then as a researcher. VTTI has inspired me, and many others, to learn and grow in a culture of service guided by our Ut Prosim motto (That I May Serve) with a focus on transportation safety. Telling the VTTI story of passion for research, innovation, impact, and success as we branch out our advancement initiative is an honor. The quality of our researchers, staff, students, and facilities is unparalleled. Our great success is in large part due to the great partnerships we have formed in the past decades. I will continue developing new partnerships within VT, industry, and other organizations to conduct research based on our core mission to save lives, time, money, and protect the environment. In addition to supporting the great programs VTTI researchers keep developing, I'm excited to put our research in motion to educate the community," said Blanco.
---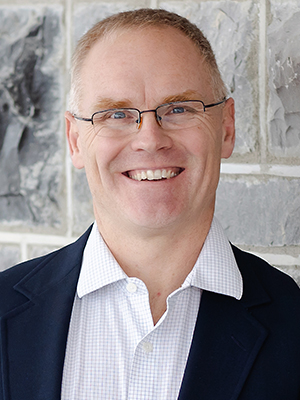 Zeb Bowden, Director of the Division for Technology Development and Deployment
Dr. Zeb Bowden oversees the Division of Technology Development and Deployment, which is comprised of Mechanical Systems and Facilities Operations, Electronic Systems and Technology Innovation, Computing Support, DevOps, and HPC/Research Computing groups. His research areas of focus include large-scale data ingestion for all data collection studies at VTTI and the visualization of naturalistic driving data. Since 2011, he has served as VTTI's Systems Architect and Lead Application Developer, designing and supporting the IT systems responsible for collecting sensor/video data for naturalistic driving data collection, as well as developing client/server, database, and web-based applications to support the retrieval, transfer, ingestion, and analysis of data in global locations. In his time at VTTI, Dr. Bowden has designed and developed data pipelines for several large-scale projects, including the Second Strategic Highway Research Program. He is an adjunct professor for the Pamplin College of Business at Virginia Tech.
"I am excited to be taking on this challenging new role and to be part of the leadership team that will shape the future of VTTI. We have a great group of dedicated employees who work hard, are fun to be around, and continue to be committed to our core mission: to save lives, save time, save money, and protect the environment," said Bowden.
---
Michelle Chaka, Director of the Division for Data and Analytics
s the Division Director of Data and Analytics, Michelle Chaka serves as a champion for data-driven research that uses innovative data fusion, analysis, and visualization techniques to advance transportation. In 2017, she established the Automated Mobility Partnership (AMP), a private industry consortium that advances the safe deployment of ADS through the development of driving data and virtual tools. While at VTTI, she has been responsible for the delivery of major safety initiatives, including the FMVSS Considerations for Vehicles with Automated Driving Systems study. Previously, Chaka served as the Interim Director for VTTI's Center for Public Policy, Partnerships, and Outreach and worked for 20 years at Ford Motor Company in corporate safety strategy and policy.
"VTTI has a proven track record in conducting impactful research to improve motor vehicle safety and protect the environment. Data and analytics have been integral to the success. I am excited about the opportunity to serve our incredibly talented VTTI team," said Chaka.
---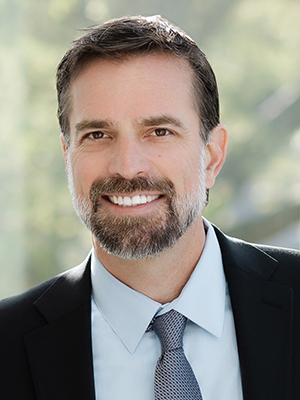 Zac Doerzaph, Director of the Division for Vehicle Driver Safety Systems
Dr. Zac Doerzaph strategically guides the research and development team within the Division for Vehicle, Driver, & System Safety. This division is responsible for idealizing, designing, developing, and evaluating solutions to complex transportation challenges. Throughout his career, Dr. Doerzaph has coordinated a research portfolio focused on measuring and improving the performance of next-generation vehicle systems. His research specialties include the design, development, and evaluation of collision avoidance systems, connected vehicles, automated driving systems, driver interfaces, and driver behavior monitoring. Currently, he leads the Safety through Disruption University Transportation Center (SAFE-D UTC) and is a co-principal investigator for a $7.5 million Automated Driving System Demonstration Grant from the U.S. Department of Transportation. Dr. Doerzaph holds a joint appointment as an associate professor in the Department of Biomechanical Engineering and Mechanics at Virginia Tech. Previously, he was the Director of VTTI's Center for Advanced Automotive Research.
"This new division brings together our talented researchers into a cohesive team with an enhanced breadth and depth of skill. This provides us with an exciting and unprecedented potential to make a positive impact by significantly improving the safety and performance of the transportation system," said Doerzaph.
---
­­
Rich Hanowski, Director of the Division of Freight, Transit, & Heavy Vehicle Safety
Dr. Rich Hanowski leads a talented team of researchers charged with solving complex and critical problems experienced by heavy vehicles through deployment, testing, analysis, education, and outreach. Previously the Director of VTTI's Center for Truck and Bus Safety, Dr. Hanowski's wealth of experience includes the areas of transportation human factors with both heavy & light vehicles, laboratory & field testing, simulation, advanced system development & testing, naturalistic driving, design guideline development, and human performance evaluation. Having served as the principal investigator (PI) or Co-PI on over $81 Million of contract research, Dr. Hanowski's long-term success with establishing and maintaining strong partnerships throughout government and industry has resulted in groundbreaking studies that have made our roadways safer. A recognized expert on fatigued and distracted driving, he has authored more than 300 publications (journal articles, book chapters, conference papers, and technical reports) and serves on SAE International's Executive Council for the Commercial Vehicle Engineering Congress (COMVEC) and on the Transportation Research Board's Trucking Industry Research Committee.
"It's an exciting time to be at VTTI, and DHVY, as commercial motor vehicle safety and operational issues continue to evolve. With a focus on addressing real-world problems, our team follows a research-to-practice philosophy by translating research findings into actionable countermeasures. With a long history of establishing key partnerships across a variety of industry and government stakeholders, the DHVY team is actively engaged in innovative research-based initiatives that support the safety, health, and well-being of truck and bus drivers and those that share the roads with them."
---
­­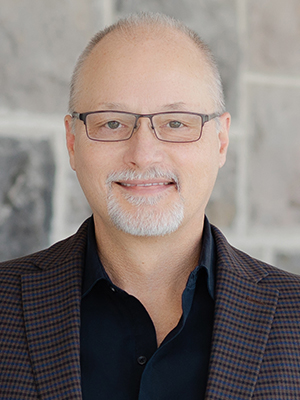 Mike Mollenhauer, Director of the Division of Technology Implementation
As the director of the newly created Division of Technology Implementation, Dr. Mike Mollenhauer oversees the design, development, deployment, and maintenance of connected and automated vehicle (CAV) platforms, infrastructure hardware, and software systems that facilitate early-stage deployment applications. He serves as the lead for the design and implementation of successful technologies developed through applied research to ensure that they provide positive benefits to VTTI's clientele in addition to creating strategies for how they can be implemented in a commercial market. Dr. Mollenhauer headed the team responsible for the development of VTTI's Automated Mobility Partnership data dissemination and analytics portal and he directed the project that architected and built the Virginia Connected Corridor cloud computing environment and suite of connected vehicle applications, which included a Smart Vest for roadside workers as well as vehicle and cell phone-based driver information applications. Dr. Mollenhauer previously served as the leader for VTTI's Research Software Tool development group and as the director for VTTI's Center for Product Development.
---
For general research or partnership inquiries, please contact Dr. Myra Blanco to be connected with a member of our team: mblanco@vtti.vt.edu; 540-231-1551.