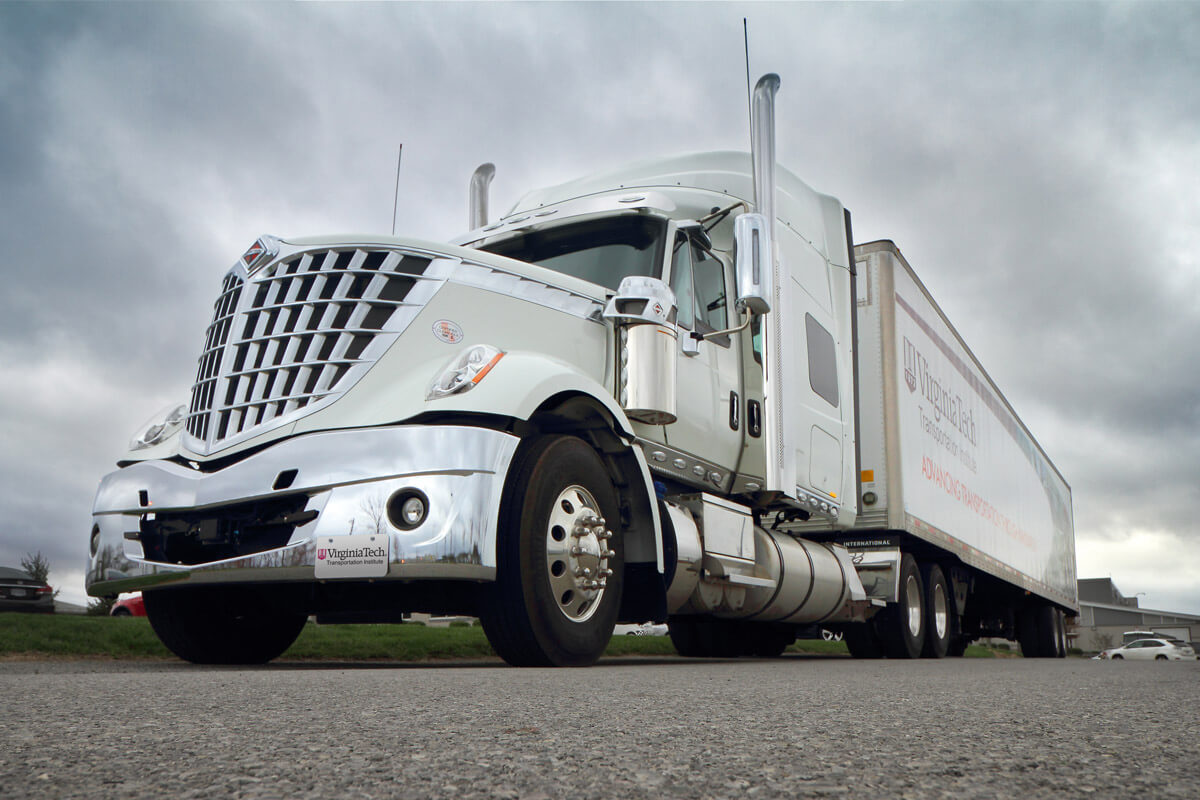 September 14, 2020
Media Contacts

Maureen Vogel
630-775-2307
media@nsc.org

Kate Thermansen
860-954-1789
ktherman@travelers.com

540-231-1501
inquiries@vtti.vt.edu
---
Trucking companies face a variety of industry challenges, including an aging workforce, driver shortages, injuries and fatalities, and the cost of implementing advanced safety technologies. The National Surface Transportation Safety Center for Excellence (NSTSCE) has issued several new reports on these topics to help fleets navigate them successfully and improve their safety outcomes.
Dr. Rich Hanowski, director of the Center for Truck and Bus Safety at the Virginia Tech Transportation Institute (VTTI) commented on the reports, saying, "As recent events have demonstrated, truck drivers are critical to maintaining our economy, and it is imperative that we support driver safety. Moreover, developing and maintaining a safe truck driver workforce supports the wellbeing of all road users. These three new NSTSCE studies provide important new data, and key recommendations that are scientifically based, to aid our nation's truckers."
Chris Hayes,Second Vice President of Transportation, Risk Control at Travelers added, "A safe work environment does not happen by accident. As these studies show, engaging drivers in safety conversations and employing technology to deliver data that can be used as part of an ongoing feedback and coaching program can help reduce the potential for accidents."
Lorraine M. Martin, president and CEO of the National Safety Council (NSC), supported the reports' findings.
"Truck drivers play an important role in delivering needed goods and products across the U.S., a fact highlighted by the COVID-19 pandemic," Martin said. "Motor vehicle data recently released by the NSC indicates our roads have become more hazardous during COVID-19, even with less traffic, and truck drivers – essential workers – share the roadways with these dangerous drivers. We must do more to protect truck drivers with tools like those from NSTSCE. Such efforts will support our valued truck drivers and in turn benefit all road users." Each study is outlined below, along with recommended best practices for fleet managers:
Commercial Motor Vehicle Driver Risk Based on Age and Driving Experience
Full report:http://hdl.handle.net/10919/97727
Using data collected and compiled in a study sponsored by the Federal Motor Carrier Safety Administration from more than 9,000 commercial motor vehicle (CMV) drivers (21-65 years old), the NSTSCE project team analyzed the impact of age and CMV driving experience on crash rates, crash involvement, and moving violations.
Key research findings include:
Driving experience is a greater predictor of crash risk than age, even though both experience and age play roles. This may be especially true for older, inexperienced CMV drivers (e.g., over 55 years of age with less than one year of CMV driving experience), who tended to have higher crash rates and odds of being involved in a crash than did their younger, inexperienced counterparts.
The first year of driving a CMV is generally the riskiest, regardless of age in terms of crash rates, crash involvement, and moving violations.
Based on these findings, NSTSCE recommends the following best safety practices to fleet managers:
Focus on driver training, including inviting the company's more experienced drivers to participate in driver mentoring programs. Encouraging seasoned drivers to share their knowledge and wisdom with the newer drivers can help ensure that the fleet's safety and performance standards will continue to be met by the next generation of drivers.
Consider incorporating driver safety technologies that utilize dash cams. Examples include dashcams that continually record video and provide evidence-based opportunities for driver training.
Evaluation of an In-vehicle Monitoring System Among an Oil and Gas Well Servicing Fleet
Full report: https://vtechworks.lib.vt.edu/handle/10919/97959
The pilot study, which was conducted among a fleet of oil and gas well servicing vehicles, sought to evaluate the effects of an in-vehicle monitoring system (IVMS) on fleet performance. The NSTSCE team also wanted to better understand the risks that exist in the field through the recording of driver behaviors, vehicle near-miss incidents, and driver schedules.
Data collected from the fleet were handled anonymously across 21 light vehicle pickup trucks, which were instrumented with the IVMS, as well as from four participating drivers (one manager and three site workers), whose vehicles were also instrumented with data collection systems.
Key findings include:
Speeding events decreased by 60% percent and aggressive driving incidents were reduced by 50% among the 21 IVMS-instrumented trucks.
Drivers remained neutral to positive about the IVMS and rated its functionality positively.
According to driving pattern analyses of the participants, the three site workers averaged 15.4 hours for daily on-duty and commute time. They also spent a significant amount of driving time on unimproved roads, which have their own sets of hazards distinct from highway driving.
Oil and gas fleets may wish to consider the following guidance from the project team on how best to incorporate IVMSs into their operations:
Utilize IVMSs in conjunction with additional safety practices, not in place of them. While IVMSs typically provide driver feedback on unsafe driving behaviors, fleets should continue to prioritize proper coaching and driver accountability. Without these elements, IVMSs essentially function only as GPS-tracking devices.
Target a positive change in safety culture when implementing IVMSs. The elements not typically addressed by IVMSs, such as distraction or fatigue, can be addressed through changes in safety culture and complementary support systems.
Using IVMSs properly can start a positive, fleet-wide push for safety.
Large Truck Technology Return-on-Investment Calculator: User Guide and Instruction Manual
ROI calculator and user guide: http://hdl.handle.net/10919/97863
Advanced safety technologies, such as automatic emergency braking, lane departure warning, and video-based onboard safety monitoring, have the potential to greatly reduce the number of injuries and fatalities on the nation's roadways. However, CMV carriers may not have the data they need to fully evaluate their return-on-investment (ROI) for deployment.
To assist, the NSTSCE project team has created a research-based ROI calculator designed to help carriers make realistic estimates. Carriers can input data specific to their fleets—number of trucks, mileage, number of crashes, and so forth—to calculate the potential benefits and costs of implementing these technologies.
Download the ROI calculator and user guide here: http://hdl.handle.net/10919/97863
These studies were funded through the support of the following NSTSCE stakeholders: VTTI, Travelers, the National Safety Council, General Motors Corporation, the Federal Motor Carrier Safety Administration, the Virginia Department of Transportation and the Virginia Transportation Research Council.
---
About NSTSCE
NSTSCE at VTTI was established by the Federal Public Transportation Act of 2005 to develop and disseminate advanced transportation safety techniques and innovations in both rural and urban communities.
About National Safety Council
The National Safety Council is America's leading nonprofit safety advocate – and has been for over 100 years. As a mission-based organization, we work to eliminate the leading causes of preventable death and injury, focusing our efforts on the workplace, roadway and impairment. We create a culture of safety to not only keep people safer at work, but also beyond the workplace so they can live their fullest lives.
About Travelers
The Travelers Companies, Inc. (NYSE: TRV) is a leading provider of property casualty insurance for auto, home and business. A component of the Dow Jones Industrial Average, Travelers has approximately 30,000 employees and generated revenues of approximately $32 billion in 2019. For more information, visit www.travelers.com.
About Virginia Tech Transportation Institute
The Virginia Tech Transportation Institute conducts research to save lives, time, and money and protect the environment. As one of seven premier research institutes created by Virginia Tech to answer national challenges, VTTI is continually advancing transportation through innovation and has impacted public policy on national and international levels.