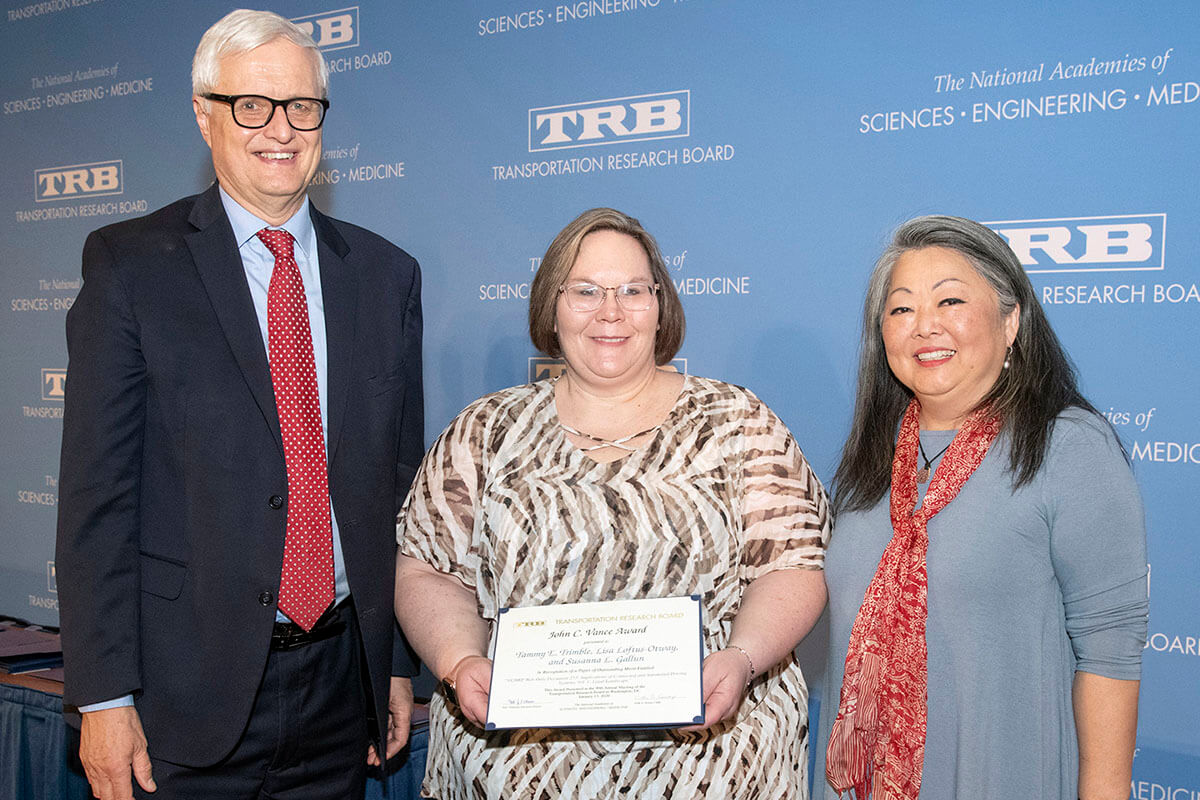 January 14, 2020
Tammy Trimble, senior research associate with VTTI's Center for Public Policy, Partnerships, and Outreach, received the John C. Vance Paper Award on Jan. 13 during the Transportation Research Board's 99th Annual Meeting in recognition of her team's research on the regulatory landscape of advanced vehicles.
Trimble, along with colleagues at VTTI, led a team of researchers from the University of Texas at Austin, Betty Serian and Associates, LLC, Bishop Consulting, and Iteris, Inc. to produce a series of technical reports on the legal implications of connected and Automated Driving Systems. Their research analyzes federal, state, and international regulations and provides data-based guidelines for policy makers to take into consideration. Through a systemic examination of state motor vehicle codes, the team identified areas of law and policies that may need to be modified.
"The results of this research effort provide an important roadmap for state departments of motor vehicles and transportation administrators as they work to remove legal barriers and to facilitate the deployment of connected and Automated Driving System-equipped vehicles. This research also provides guidance to law enforcement officials who will be responsible for enforcing new motor vehicle codes," notes Trimble.
A program unit of the National Academy of Sciences, the Transportation Research Board attracts approximately 13,000 transportation professionals globally to its annual meeting in Washington, DC. During the conference, the John C. Vance Award is awarded to authors of research that advances the study, understanding, and implementation of transportation law.
---
Paper authors:
Tammy Trimble, VTTI
Lisa Loftus Otway, The University of Texas at Austin
Wendy Wagner, The University of Texas at Austin
Susanna L. Gallun, Transportation Consultant
Betty Serian, Betty Serian and Associates, LLC
Brad Mallory, Betty Serian and Associates, LLC
Richard Bishop, Bishop Consulting
Pete Gould, Bishop Consulting and Shared Mobility Strategies, LLC
Glenn Havinoviski, Transportation Technologies and Connected Communities, previously at Iteris, Inc.
Sam Morrissey, Planning and Environmental California and Nevada, previously at Iteris, Inc.
Jason Wagner, previously at VTTI
Photo credit: Transportation Research Board