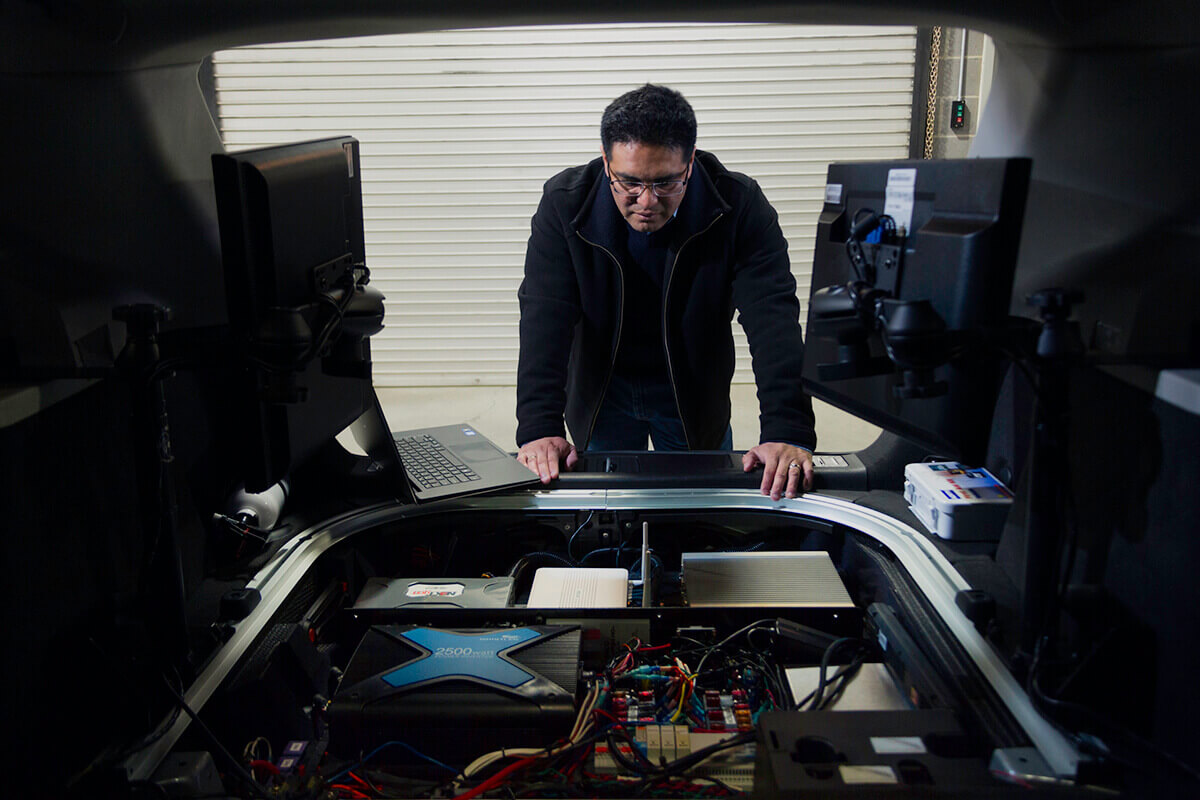 May 9, 2017
Jean Paul "J.P." Talledo Vilela is an embedded hardware team leader in the Center for Technology Development at the Virginia Tech Transportation Institute (VTTI). The department in which he works, the Hardware Engineering Lab (HEL), develops connected- and automated-vehicle systems for use in the institute's research studies and test-bed applications. We went down to the garage and asked Talledo Vilela to share with us an inside look at HEL's engineering capabilities.
From underneath the wheel of a research vehicle, Talledo Vilela pulls out a hidden circuit board capable of reprogramming an average car into a semi-automated one. He calls it a Vehicle Control Board (VCB) and explains how this device, as thin as a credit card, controls the car's ability to steer, brake, and accelerate.
"This guy is the brain. On the brake, you'll see we have attached a mechanical pulley system with a motor that tells the brake to pull or release," he says, motioning to a lever attached to the vehicle's brake pedal. "The VCB calculates how much of the brake to pull—maybe 10, 20, 30, or 40 percent. It's the same thing with the steering. We've connected a motor to the steering column and can use the VCB to tell the car how far to turn–for instance, 80 degrees to the left or right. Most of our automation involves a combination of mechanical and electronic systems working together."
The installation of VCB is but one example of how Talledo Vilela, along with his colleagues in HEL, are working to retrofit standard vehicles with automation and other technologies in support of VTTI's transportation safety research into advanced vehicles.
As we walk around the garage, Talledo Vilela talks about how he came to work for the institute 10 years ago. While pursuing his master's degree in Mexico, he developed wireless sensor networks for Mercedes-Benz and knew that he wanted to continue working with manufacturers. Following graduation, he moved to the United States to gain proximity to the automobile industry and began working for VTTI.
"I really like it here," he says. "It's exciting, and I'm always learning new stuff about the cars and from the people I work with. We have engineers from different disciplinary areas, from computer hardware to mechanical, so we make a nice team."
Along with automation, the HEL team is also developing connected-vehicle capabilities. This involves instrumenting vehicles with dedicated short-range communication (DSRC) systems, which use radio waves to transmit vehicle GPS location, direction, and speed to other vehicles and infrastructure. The DSRC systems are designed to constantly scan for signals communicated from other vehicles or infrastructure units along the roadway to detect various hazards and warn the driver through a series of alerts. These can include small lights that flash across the dashboard, messages that appear on the dashboard, series of beeps, and recorded warnings.
"We talk to the road, and the road talks to us," Talledo Vilela explains. "We can generate warnings to send—or what we call travel information messages—to drivers about accidents, work zones, speed limit changes, and that kind of thing."
After the research vehicles are fully equipped, Talledo Vilela and his team take them out of the garage and onto the road for deployment. Currently, VTTI is testing automated- and connected-vehicle technologies on the Virginia Smart Road, the Virginia Automated Corridors, and the Virginia Connected Corridors outside of Washington, D.C.
The greatest safety benefit of advanced-vehicle technology, Talledo Vilela believes, is that it can aid the driver and provide warnings about potential hazards. However, he stresses that drivers still always need to be alert. And, in the case of automated vehicles, drivers need to be prepared to take over the wheel at any time.
"The computer systems in automated vehicles are not advanced enough to be able to predict something that can happen in under a second," Talledo Vilela cautions. "Also, sometimes the car cameras cannot detect the surroundings clearly. Maybe the sun is too bright or the lane markings are obscured due to heavy rain or snow. In those cases, the car may not engage automation."
HEL also has the option to disable automation physically if needed during studies. Talledo Vilela points out a large, can't-miss-it red "kill button" next to the driver's seat.
"In general, though, this technology will at the very least provide aid in an environment that the car can drive safely," he continues.
Next, HEL plans to test automated systems on rural roadways. Since the time of Talledo Vilela's interview, the Montgomery County board of supervisors has unanimously approved an expansion to the Smart Road that will pave the way for this research.
"Most automation is happening on highways at high speeds because there are no pedestrians or intersections. So, the next step would be to figure out how to put automated vehicles to work in rural areas. Doing that will require more sensors and data from the infrastructure," Talledo Vilela explains.
Advanced vehicles are still in the early stages of development. However, Talledo Vilela says that he looks forward to seeing where connected and automated research will drive VTTI next.
"We're not at the point yet of simply being able to tell the car, 'Take me to Starbucks.' But, someday, automation will become more complex," he says. "That's where we're heading with our work and how I think VTTI is evolving."
Learn more about the Center for Technology Development here.
---
Article by Anne Deekens
Photos by Matthew Moeller