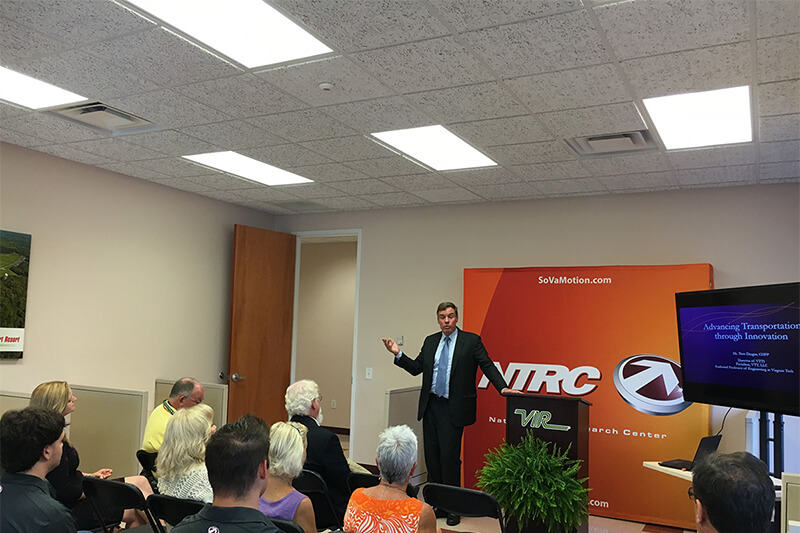 August 19, 2016
As U.S. Sen. Mark Warner discovered this week, the Virginia Tech Transportation Institute-affiliated Global Center for Automotive Performance Simulation is driving the latest advancements in tire and vehicle testing, modeling, and simulation for the next generation of vehicles.
On August 16, Warner visited the center to get a first-hand look at its endeavors in enhancing tire and vehicle design and its economic impact on the Southern Virginia region. He also discussed automated-vehicle research performed by the Virginia Tech Transportation Institute, going for a spin around the Virginia International Raceway in an institute-owned semi-automated Tesla Model S.
"I think what we're looking at here between GCAPS [the Global Center for Automotive Performance Simulation], Virginia Tech, and VIR is actually the future of driving," said Warner after completing the test run in the Tesla. The senator has been an avid supporter of research and investment in unmanned systems.
The Global Center for Automotive Performance Simulation, a collaborative effort led by the Virginia Tech Transportation Institute, provides advanced tire research, vehicle simulation, and mathematical modeling for virtual vehicle and tire designs. By driving and braking tires under a variety of simulated conditions in a controlled environment, for instance, center engineers can put realistic forces on tires up to speeds of 200 miles an hour. The center also works with other centers at the institute to model automated cars of the future.
During his visit, Warner also received an update about the center's current and potential economic impact in the Commonwealth, with the center expected to bring in $147 million into the Southern Virginia region during its first 10 years of operation and 183 jobs by 2020. To date, the center has attracted more than 30 global customers to the area. Automated-vehicle research initiatives, according to Warner, has the potential to further propel economic development in Virginia.
"Around $20 billion is going to be spent by the manufacturers on testing over the next five years," Warner explained during his tour. "We want a lot of that testing and those jobs to be done right here in Virginia. We have the chance to be the Silicon Valley of unmanned vehicles."
"Sen. Warner, Gov. McAuliffe and other Virginia legislators have been strong proponents of creating a regulatory environment that is second to none to test concepts, prototypes, pre-production and production vehicles to help the industry build the most dynamic, cutting-edge, and safe vehicles around," said Tom Dingus, director of the Virginia Tech Transportation Institute. "Performing automated-vehicle research with the support of our state and federal government delegation really gives us the flexibility to evolve to meet industry needs."
Sen. Warner visited the Global Center for Automotive Performance Simulation as part of a four-day tour throughout the Commonwealth to discuss ideas to enhance Virginia's economy, tourism, and care for veterans.
---
Media Coverage