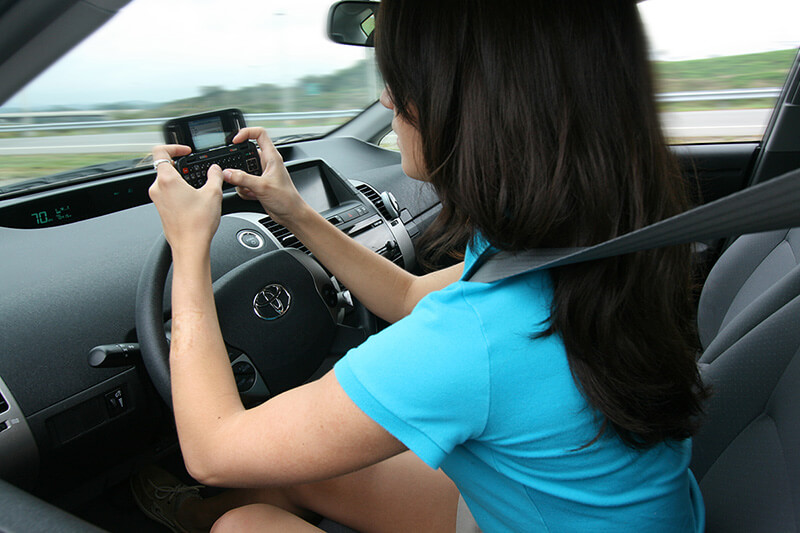 April 29, 2016
Charlie Klauer, leader of the Training Systems Group in the Division of Vehicle, Driver, & System Safety at Virginia Tech Transportation Institute, has made noteworthy strides in helping government and industry reduce teen driver crash rates.
Teen drivers, particularly novice ones, are overrepresented in U.S. fatality and injury crash statistics, where one out of every five young drivers in the nation is involved in a crash within the first six months of driving.
"I would like to see crash rates for teenagers go down. We need better education, use of monitoring and feedback technologies, and connected- and automated-vehicle technologies designed for novice drivers," said Klauer. "They are a vulnerable component on our highways, and we need to reduce their crash involvement, as this is a huge public health concern."
Early during her tenure at the transportation institute, Klauer worked on the completion of the 100-Car Naturalistic Driving Study—the first large-scale study of its kind and a project she considers a highlight in her career. The naturalistic driving study method, pioneered at the Virginia Tech Transportation Institute, involves instrumenting volunteer participants' vehicles with unobtrusive cameras, radars, and sensors that collect real-world driver performance and behavior.
Afterward, Klauer led the Naturalistic Teenage Driving Study that was sponsored by the National Institutes of Child Health and Human Development. The study was the first of its kind to investigate the risks faced by teen drivers during the first few months after receiving their licenses. Klauer and her team found that, compared to adults, novice teen drivers are involved in four times more crash and near-crash events during the first 18 months of licensure. As a result of the study, her group has published more than 15 related journal articles, including an article published in the New England Journal of Medicine that compared the driving behavior and performance of adult drivers in the 100-Car Naturalistic Driving Study with results from the Naturalistic Teenage Driving Study. The national impact of the journal article was almost immediate, with the article named among the Top 100 most-discussed academic papers in 2014 and among the Top 15 most-read of more than 10,000 studies published by the New England Journal of Medicine.
The Teen Risk and Injury Prevention Group has since conducted several other teen naturalistic driving studies, including the Supervised Practice Driving Study—an ongoing study during which continuous naturalistic driving data were collected from 90 novice teen drivers during the first nine months of the learner's permit phase through 12 months of independent driving—and the Driver Coach Study. The latter involves 92 newly licensed teen drivers who receive real-time feedback when a risky driving event is detected by an advanced data collection system; the teen's parents/guardians then receive post hoc feedback. Preliminary results from this study indicate that if parents are engaged and review the feedback website, teen crash/near-crash rates are lower than if parents do not review the feedback website.
Today, the Teen Risk and Injury Prevention Group has developed the Teen Naturalistic Meta-Database, comprising previous teen naturalistic driving studies conducted at the transportation institute along with teen drivers within the Second Strategic Highway Research Program Naturalistic Driving Study—the largest light-vehicle naturalistic driving study ever conducted and involving more than 3,500 drivers aged 16 to 98. Collectively, the meta-database covers 380 16- and 17-year-old drivers, 12 to 24 months of continuous driving data per teen, 321 crashes and 675 near-crashes, and more than 700,000 trips and 200,000 hours traveled. The group will use the meta-database to further inform the understanding of teen driver risks on an even larger scale.
Beyond her research, Klauer and her team work with the community to prevent distracted driving within the teen driver population. The group has spoken at high schools to parents and teenagers, educating them about the dangers of distracted driving. The team has also partnered with groups such as the Blue Ridge Transportation Safety Board to continue educating the public about driving risks faced by people of all ages. After being asked to speak at a Bedford County Parent and Teen Night in response to five teen fatalities in 10 days, the team also began developing materials for licensing ceremonies in Virginia.
In addition to teen distracted driving research, Klauer is working on reducing crashes related to driver distraction within the overall transportation community and within novice driver populations that are known to have higher crash risks, such as teenagers diagnosed with ADHD.
"Distracting activities performed while driving are often overlooked risks, and we need to remain diligent as the impact of mobile devices in vehicles is increasing exponentially – not only in the number of smart phones owned but also in the number of applications that young drivers and adult drivers use while driving," said Klauer.
Klauer is currently working on securing funding to better evaluate a broad range of monitoring and feedback systems designed for teen drivers. By conducting work such as increasing parental involvement, she hopes to continue to reduce crash risk for teen drivers.