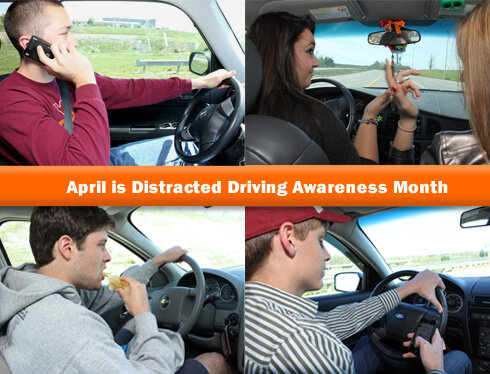 April 1, 2014
No one knows better than the Virginia Tech Transportation Institute the extent of driving distraction as the cause of crashes.
We identified it as the reason for most crashes and documented the leading distractions as: driver inattention, due to fatigue; and texting while driving, particularly by inexperienced drivers.
---
Frequently Asked Questions
What is distracted driving?
Driver distraction is the diversion of attention from activities critical for safe driving towards a competing activity.
How often are we distracted while driving?*
When we sample data and filter out all non-driving related activities, we find that drivers are doing nothing but driving only 46 percent of the time. When it comes to cell phone use, we find that drivers use a cell phone 15.7% of the time, text 3% of the time, Dial 0.3% of the time, and Talk on a cell phone 10.8% of the time.
Who drives distracted?*
Everyone. Commuters, professional truck drivers, teens.
What is the worst form of distraction?*
By far the worst form of driver distraction is text messaging. Our research shows that texting can increase your risk by up to 23 times. However, it goes beyond texting. Any activities that take your eyes off the road have been shown to be risky.
What can I do?

Keep your eyes on the road.
Pledge not to drive distracted.
* – Answers based on VTTI's study results.
---
Percentage of increased crash risk associated with distracted driving tasks
Click image for larger version.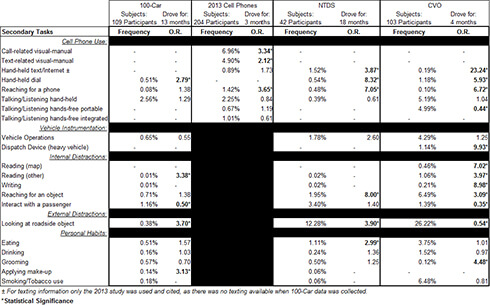 Odds ratio analyses were calculate d to identify tasks that were high risk. That is, tasks that were associated with an increased likelihood of involvement in a safety-critical event compared to uneventful baseline driving. Odds of occurrence were defined as the probability of event
occurrence (safety-critical event) divided by the probability of non-occurrence (baseline epoch).
These probability estimates were conditioned on the presence/absence of the behavior of interest and then compared via ratios.
---
The Experts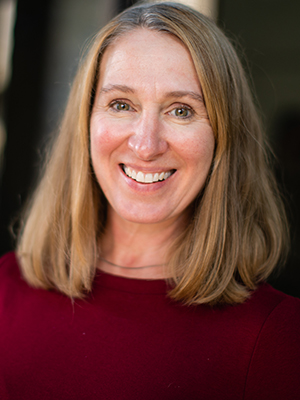 Dr. Charlie Klauer is a Research Scientist and the Leader of the Teen Risk and Injury Prevention Group. She has been working in transportation research for the past 13 years, previously at Battelle Human Factors Research Center in Seattle, WA and currently at the Virginia Tech Transportation Institute in Blacksburg, VA. While at VTTI, she has served as the project manager for the 100 Car Naturalistic Driving Study and is currently a Principal Investigator and project manager for the Supervised Practice Driving Study, Driver Coach Study, and the Canada Naturalistic Driving Study.
Richard J. Hanowski is the director of the Center for Truck and Bus Safety (CTBS) at the Virginia Tech Transportation Institute (VTTI).
He is also a research scientist. Hanowski has formal training in human factors engineering, systems design, safety, research methods, experimental design, statistics, training, and human-computer interaction.
His experience includes transportation human factors with both heavy and light vehicles, laboratory and field testing, real-time automobile and heavy vehicle simulation, advanced system development and testing, design guideline development, and human performance evaluation.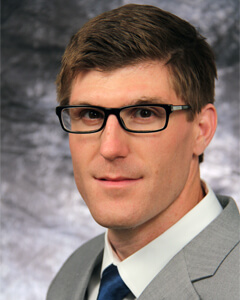 Gregory Fitch is a senior research associate in the Automated Vehicle Systems group at the Virginia Tech Transportation Institute, where he has been conducting human factors research pertaining to transportation safety since 2002.
Fitch has formal training in human factors/industrial and systems engineering. He is an experienced researcher of driver performance with technology and has been the Co-Principal Investigator and Project Manager on numerous research projects.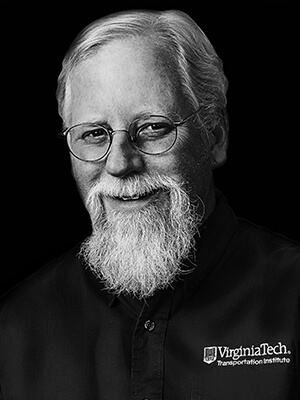 Dr. Thomas A. Dingus is director of the Virginia Tech Transportation Institute (VTTI), is the Newport News Shipbuilding Professor of Civil and Environmental Engineering at Virginia Tech, and is the president of VTT, LLC. He is center director of the Tier 1 Connected Vehicle/Infrastructure University Transportation Center (CVI-UTC), which comprises a consortium of Virginia Tech/VTTI, the University of Virginia, and Morgan State University.
Since 1996, Dr. Dingus has managed the operations and research at VTTI. This multidisciplinary organization annually conducts more than $30 million in sponsored research. Prior to joining Virginia Tech, Dr. Dingus was founding director of the National Center for Transportation Technology at the University of Idaho and was an associate director of the Center for Computer-Aided Design at the University of Iowa.
---
Riskiest Teen Driving Behavior Videos
VTTI research has determined that the following secondary tasks teen drivers engage in can put them at higher risk for crashes or near crashes: