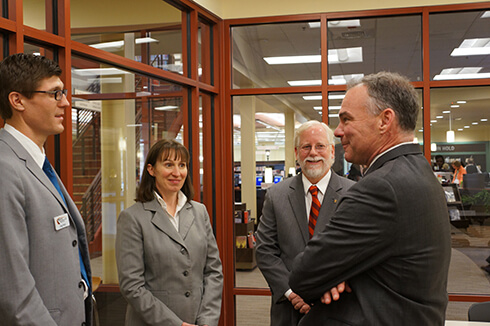 December 9, 2013

Sen. Tim Kaine (far right) met with VTTI Director Thomas A. Dingus (second from right) and researchers Charlie Klauer (second from left) and Greg Fitch (far left) to discuss transportation policies.
Dec. 9, 2013 – During a recent visit to the Roanoke Valley, Sen. Tim Kaine met with researchers from the Virginia Tech Transportation Institute (VTTI) to discuss transportation policies, particularly as they relate to distracted driving.
VTTI joined representatives from the Blue Ridge Transportation Safety Board, Roanoke County law enforcement, and the Virginia Department of Transportation in a roundtable dialogue about current transportation legislation and future regulations.
The meeting is yet another example of VTTI's collaboration across all levels of government to effect change in transportation policies for the safety and betterment of transportation users. Naturalistic driving studies pioneered by VTTI researchers and aided by a data acquisition system developed in-house have revolutionized research into such tangible public health threats as distracted driving.
"Our goal is to mitigate, and ultimately eliminate, distracted driving," said VTTI Director Thomas A. Dingus. "A main objective of VTTI is to save lives. It is at the core of who we are and what we do. By making a measurable impact on transportation policy, we can help stop fatalities occurring on our nation's roadways."
The Virginia Tech Transportation Institute conducts research to save lives, save time, save money, and protect the environment. Researchers and students from multiple fields are continuously developing the techniques and technologies to solve transportation challenges from vehicular, driver, infrastructure, and environmental perspectives. As one of seven premier research institutes created by Virginia Tech to answer national challenges, the Virginia Tech Transportation Institute has effected significant change in public policies for driver, passenger, and pedestrian safety, and it is advancing the design of vehicles and infrastructure to increase safety and reduce environmental impacts.