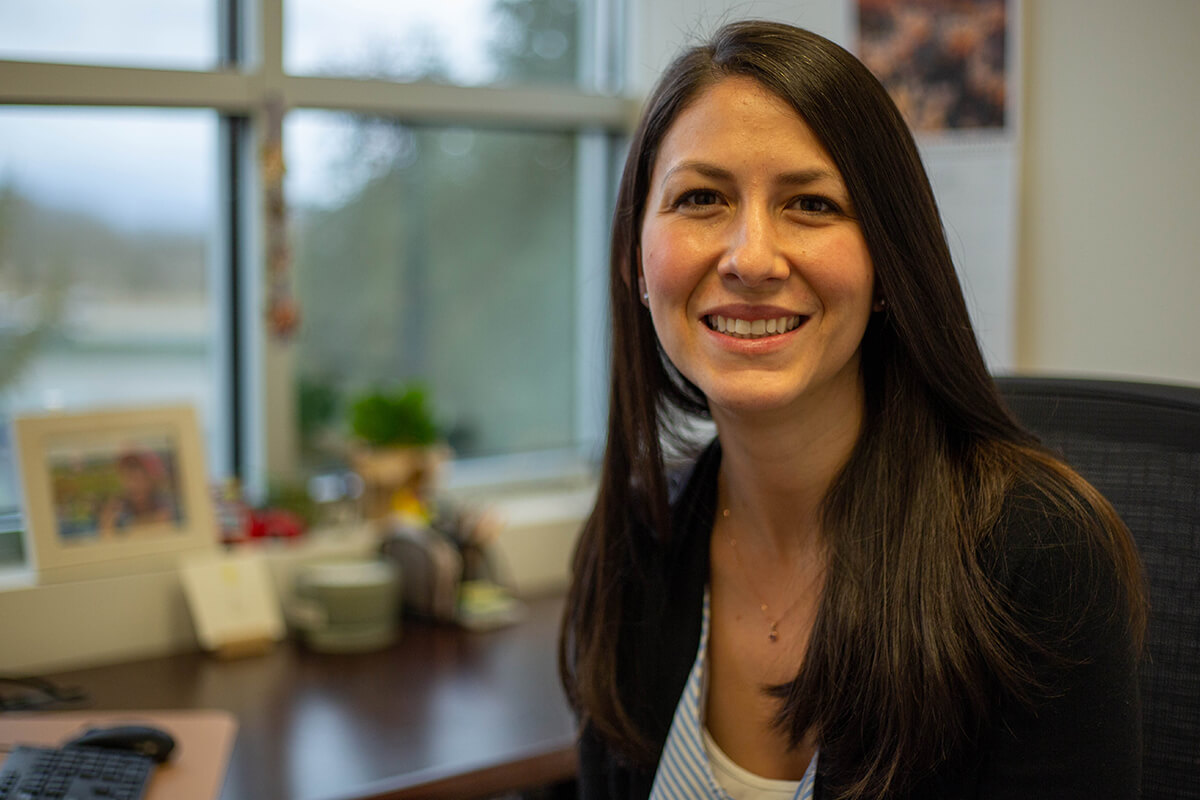 February 28, 2022
Susan Soccolich initially thought that she would use her affinity for numbers in the insurance industry.
However, after obtaining a Master's in statistics from Virginia Tech, she realized that the actuarial career's focus on crash financial impacts was not really in alignment with her mindset. Fortunately for VTTI, Susan did feel that utilizing her education and skills to focus on transportation safety was in tune with her professional goals. In summer 2010, she was hired by VTTI's Center for Truck and Bus Safety —the forerunner to the current Division of Freight, Transit, & Heavy Vehicle Safety (DHVY) — and she has been applying her background in statistics and psychology for the benefit of DHVY and other VTTI divisions ever since.
Susan's involvement in projects begins during the study's planning stages. In order to verify that the data obtained can be analyzed and produce statistically significant results, she provides input to the study design; for example: how many participants will be needed, how long the study needs to run, and if a naturalistic study is suitable, or is it best run on the Virginia Smart Roads. In her role of statistician, she looks for patterns in the study data to ensure that the research questions can be answered. Susan credits DHVY director Rich Hanowski for giving her the opportunity to be exposed to all aspects of projects, including meeting with participants and presenting study results to sponsors and at conferences.
A native of Northern Virginia, Susan first came to Blacksburg as an undergraduate and she obtained dual bachelor's degrees in in psychology and statistics. After obtaining her Master's degree, Susan and her husband, Adam – who met here as students – chose to make the New River Valley their home, noting the good quality of life it offers them.
In their free time, Susan, Adam, and their 6-yr-old daughter enjoy spending time in Blacksburg's parks, and attend all types of Hokie sporting events, including lacrosse, soccer, and baseball. Susan's volunteer involvements include assisting with a local animal rescue group and plunging into frigid water on February 26th to raise money for the Special Olympics. She expressed that she has been overwhelmed with the donations she has received from her VTTI colleagues for that event!
When asked what she likes best about working at VTTI, Susan offers: "Each season brings opportunities to work on new topics, projects, and technologies. I'm lucky to have gotten to know so many of the employees here and to be a part of so many studies." She is proud of VTTI for always asking new questions and maintaining its focus on leading transportation safety, and she noted especially the accomplishments of the newly formed Road to Inclusion, Diversity, and Equity (RIDE) committee, for which she serves as the vice chair.
Every aspect of the research conducted at VTTI is crucial to making transportation safer and Susan Soccolich is a driving force behind the advancement of research data analysis.